Blog
April 6, 2021
Bringing Console Gaming to Mobile with Crash Bandicoot: On the Run!™
King's Torbjörn Söderman explains why scalability and optimization were vital to bringing one of console gaming's most recognized franchises to mobile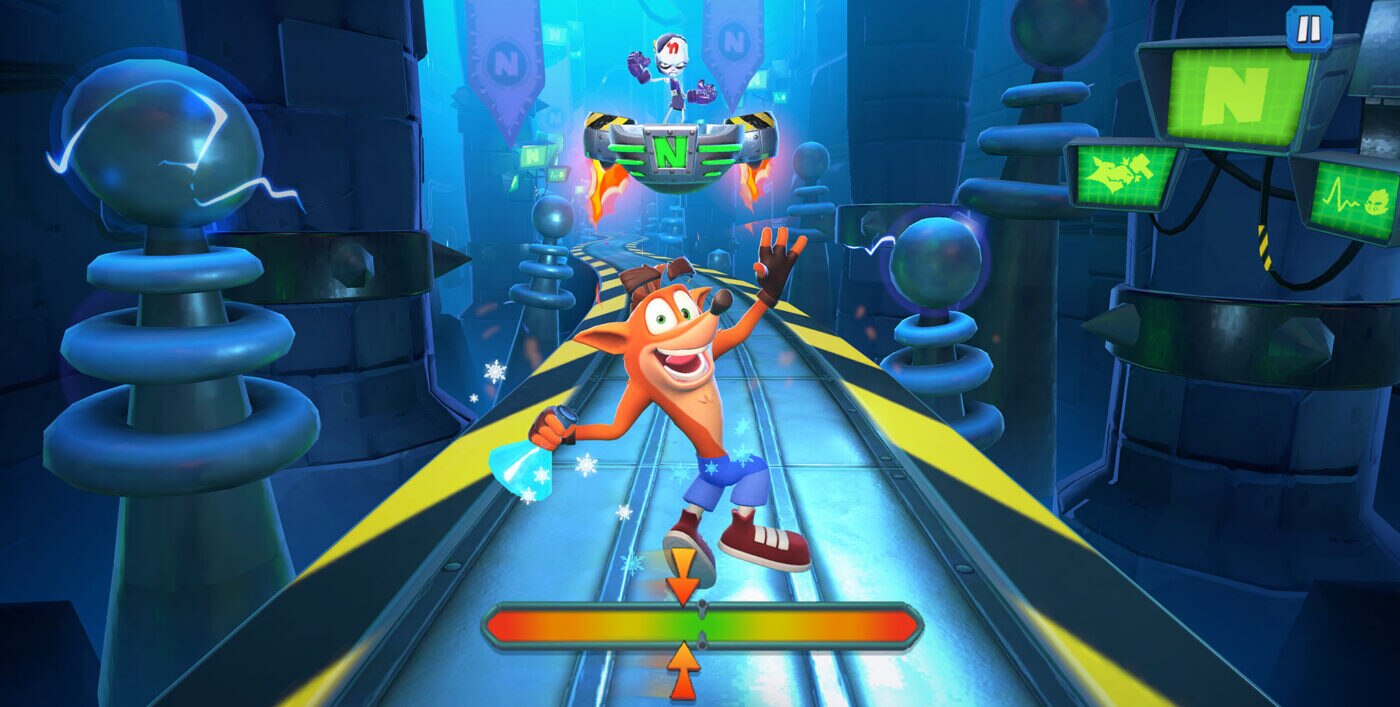 Creating a mobile game with mass-market appeal comes down to one thing: scalability. Today's high-end smartphones and tablets can rival consoles in their ability to deliver AAA gaming experiences, but mass-market means your game needs to be just as enjoyable on low-end or five-year-old hardware.
Thankfully, scalability has become a lot easier as the gap between consoles and mobile devices has narrowed. Mobile devices are far more powerful than they were when Candy Crush Saga put King on the map in 2012 and even low-end devices can now support rich experiences.
It's this that has enabled King to make the leap from mass-market 2D games into mass-market 3D, using scalable technologies to deliver best-in-class artistic vision across a broad range of devices. And it's why we're confident that the vast majority of mobile device users today will be able to enjoy our latest game, Crash Bandicoot: On the Run!, exactly as we intended.
On the Run! on any device
With a legacy like Crash Bandicoot's to uphold, ensuring the game delivered both artistically and technically was incredibly important to us. Crash Bandicoot turns 25 this year, and we had decades of material and a rich legacy of diverse worlds and legendary characters through which to make our own mark on the franchise.
We wanted to make a game that celebrates the franchise's long history and that meant putting a lot of content into the game. We make games for bite-sized moments of entertainment, so it was important that players be drawn into the story and immersed in the universe—even if they only had five minutes to play.
All of this meant that we needed a game that loaded quickly and presented the most engaging experience possible on a mobile device. This meant optimizing absolutely everything: in mobile development you can't just optimize for performance, you need to consider the entire pipeline, even if it doesn't give you any direct visible gains in frame rate.
For instance, even if you aren't bound by bandwidth and optimizing will not dramatically improve performance. Optimizing bandwidth however, will give you a lower thermal envelope, reduce thermal throttling and in turn, increase battery life for longer play sessions. You really can't afford to leave anything on the table; if there's a saving to be made, it's always worth trying to address it.
Arm Mobile Studio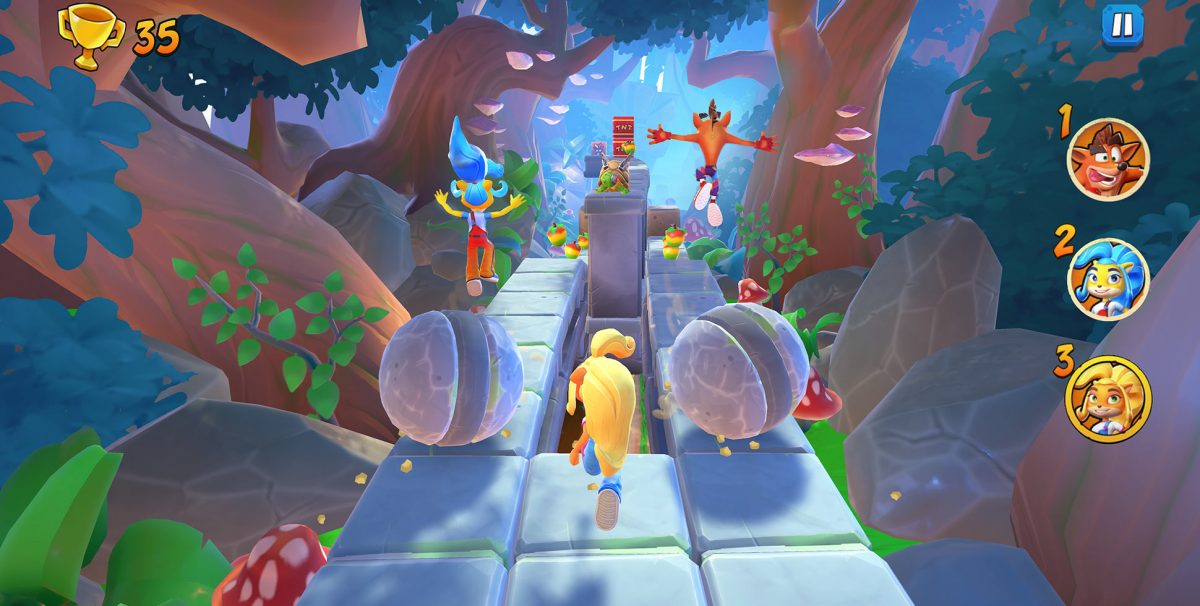 It's in optimizing Crash Bandicoot: On the Run! that Arm played a vital role. Its technology and support enabled us to understand the bottlenecks in how content has been set up and how to optimize our rendering pipeline. We spent time with Arm engineers exploring in detail how the Mali GPU works to identify performance optimization opportunities on Crash Bandicoot: On the Run!
As a developer, you are always looking for data to validate assumptions and Arm has been critical in providing tools such as Arm Mobile Studio that empower us to make the right decisions and focus our time.
Partnering with Arm has helped us achieve our artistic vision by providing detailed insights on how to efficiently get the most out of the hardware. What's great is that we've had insight into the roadmap and tools we can trust, giving us confidence in meeting the growing demands of our content.
United in Unity
Another big shout-out goes to Unity: its game engine makes support for multiple platforms much easier for our engineers, and it is simple for artists and designers to work with, too. Unity is embarking on a journey to make its engine the most optimized game engine with the refocus of its core engine to use the Data Oriented Technology Stack. We are following Unity with this journey and have used a lot of its technology to make Crash Bandicoot: On the Run! a highly optimized game.
Scalability goes hand in hand with optimization, but central to this is to build content with quality levels in mind. Having everything on a sliding scale gets very complicated, very fast. We created the game in three quality levels: low, medium and high. This setting isn't accessible to the player: it's based on the device it's played on. To identify which devices we should serve, we used a 3DMark-based smartphone database.
With this technology in place, we could tweak the game content and rendering technology to optimize for each quality level. For us, that's the key to ensuring that Crash Bandicoot: On the Run! looks amazing on high-end devices whilst still delivering an engaging experience for lower-end users.
Smoother gameplay on the horizon
For Crash Bandicoot: On the Run!, the goal we gave the team from the start was to create "the Crashiest Crash game ever". We've kept that in mind throughout production and in many ways this game is really an ode to the storied history of this franchise. For the really core fans, you'll find bosses you hadn't seen in decades, easter eggs in every level and references abound. We really wanted to stand on the shoulders of all those games we've loved over the years and pay tribute to what came before.
The team has done an amazing job in crafting a game that honors and compliments the history of Crash Bandicoot in a way that will excite both fans who've grown up with the franchise and those new to it. And with help from Arm and Unity, we've made sure that whatever device the game is played on, players can be sure they're getting the best experience possible.
Crash Bandicoot: On The Run!™
In Crash Bandicoot: On the Run!™, Dr. Neo Cortex has dispatched iconic villains across the multiverse to take control of all dimensions. With the help of his sister Coco, Crash must bash Cortex's minions back to their own dimensions. Play the game now on your smartphone.
Any re-use permitted for informational and non-commercial or personal use only.
Editorial Contact
Brian Fuller and Jack Melling
editorial@arm.com
Subscribe to Blogs and Podcasts
Get the latest blogs & podcasts direct from Arm