Blog
March 14, 2019
Microsoft Hololens 2 Brings AR to Industry
New Arm-powered augmented reality headset swerves the living room for the factory floor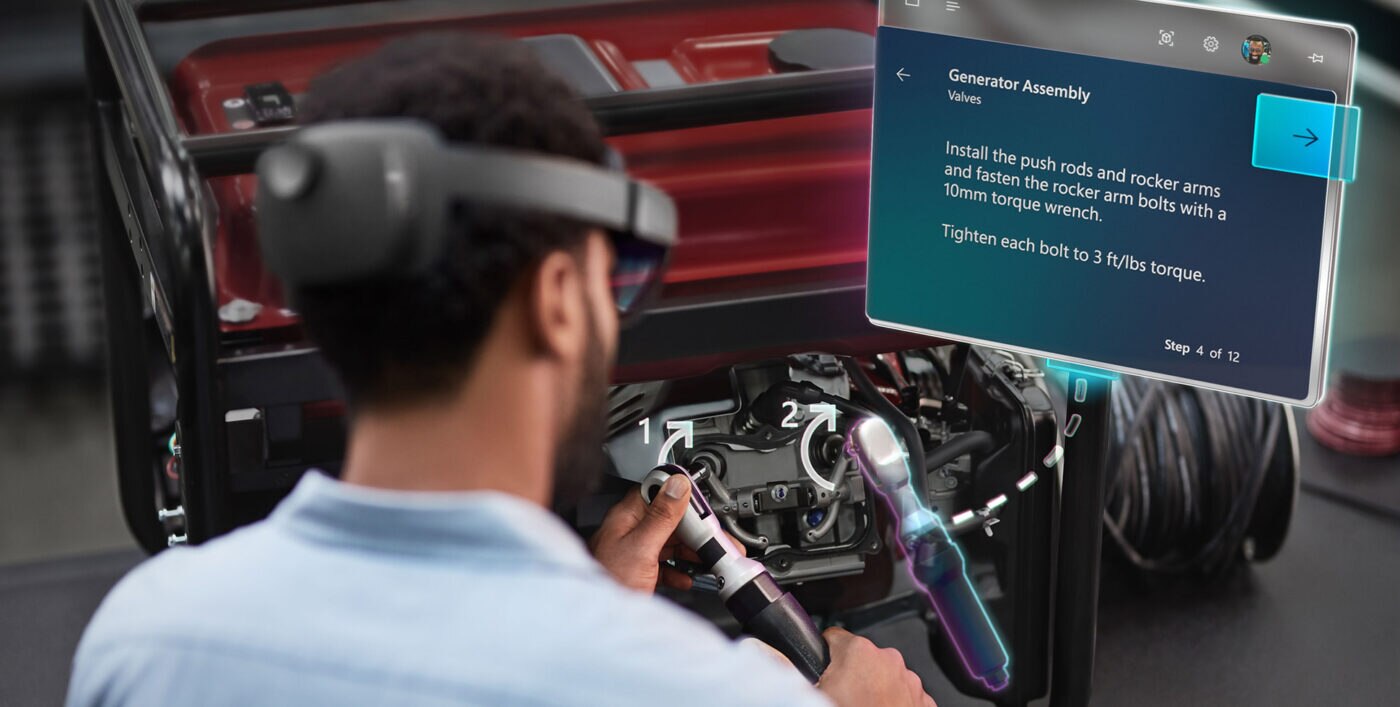 While consumer take-up of augmented reality (AR) wearables is growing, we're still several years away from commercially viable AR devices at consumer price points. The adoption of AR wearables and devices within industrial markets, meanwhile, is maturing far more rapidly. At Mobile World Congress in 2019, Microsoft announced the mixed reality headset HoloLens 2, one such AR device that's geared squarely towards IAR (industrial augmented reality) applications rather than consumers.
The original Microsoft Hololens was released in 2016 as an Intel-powered, head-mounted computer running Windows 10 and the Windows Mixed Reality platform. Looking at the device's impressive new features and updates, HoloLens 2 takes some significant steps towards a brighter AR future with much improved display FoV (field of view) and brightness, user comfort, environment comprehension, and, most importantly, more natural HMI (Human Machine Interface) through NLP (Natural Language Processing), hand and eye tracking. All of these improvements are sitting on top of a developer-friendly Windows on Arm compute platform. Significant interest in developing for Windows on Arm devices such as the Microsoft HoloLens 2 is driving new innovation in software and services similar to early smartphone eco-systems.
With all of this in mind, let's look at what this means…
Improved field of view
Microsoft has been able to more than double the FoV in the HoloLens 2, representing a big step-up for HMDs (head mounted displays). According to a fairly detailed Microsoft blog post on the Microsoft HoloLens 2, this has been achieved while maintaining the industry-leading holographic density of 47 pixels per degree per eye. The device also contains a new laser plus MEMS display sub-system to help achieve these performance advancements in a power-efficient manner.
Tracking advancements
The HoloLens 2 features a number of tracking additions and improvements. The addition of eye tracking is good to see, which is in line with industry trends. Moreover, improvements in hand and gesture tracking is due to the introduction of a much-improved Time of Flight (ToF) sensor and software enhancements. Other tracking and mapping improvements are as expected, but the inclusion of semantics – segmenting objects in the 3D map of the environment – is an interesting addition and showcase of how edge + cloud can offer significant benefits for the right use-case
Improving and aligning the HMI
The HMI improvements on the HoloLens 2 are likely to make the device very beneficial to workers. Enabling eye tracking, hand tracking, gesture recognition and semantics to all work together provides a more natural, contextual way for workers to interact with virtual objects. This could mean that work tasks are completed more efficiently and to a higher standard.
Security
With the introduction of eye tracking, comes the wearable AR device's answer to fingerprint and face unlock on smartphones known as Iris scanning. This has been my long-time prediction for user ID on wearable AR, but Microsoft have delivered it much earlier than anticipated.
Moving to a Snapdragon SoC
From an Arm perspective, we are most excited at the switch to a Qualcomm Snapdragon 850 SoC, which means the Microsoft HoloLens has moved from an x86 processor to an Arm processor. This move brings a number of benefits including performance and, most importantly, greater power efficiency. As you can see from the features and capabilities noted previously, increased compute performance will be a necessary requirement; however, the various compute-intensive tasks need to be carried out in a power efficient manner. As the features on wearable AR devices continue to evolve, the highly-integrated compute solutions based on Arm IP delivered by our innovative partners will continue to increase this much-needed efficiency.
In an article about the HoloLens 2 announcement in The Verge, Alex Kipman, a Technical Fellow at Microsoft and the person in charge of the whole HoloLens 2 project, was complimentary about Arm and explained the decision to move to the Arm-based Snapdragon SoC:
"Arm rules in battery-operated devices. The Arm decision became fairly easy. If you're going to be on battery, [it's] hard to find a product that's not running Arm today."
Away from Microsoft HoloLens, Qualcomm has made no secret of its desire to work with smartphone-powered VR (Virtual Reality) and AR headset devices, particularly those that will rely on the 5G network. As reported in The Verge, Qualcomm will be creating an "XR-optimized" certification program for smartphones using its Snapdragon 855 processors, which means it could potentially work with any headset within this ecosystem.
Exciting time for industry xR wearables
The advancements in the HoloLens 2 show the fast-pace speed of development and innovation among xR wearables for industry. While the cost might be high – around the $3,500 mark – industry can point to the proven time and cost savings from using AR wearables, particularly in manufacturing and training. The proven return on investment and significant technology and user benefits make AR wearables, like the HoloLens 2, an attractive investment for businesses. From an Arm perspective, we're excited to be a part of the HoloLens product development through the adoption of the Snapdragon 850 based on Arm Cortex processor technology. We look forward to future ground-breaking devices featuring Arm's unrivalled performance and efficiency optimized products.
Any re-use permitted for informational and non-commercial or personal use only.
Editorial Contact
Brian Fuller and Jack Melling
editorial@arm.com
Subscribe to Blogs and Podcasts
Get the latest blogs & podcasts direct from Arm