News
January 7, 2019
5G: The Most Powerful Letter and Number This Year
One of the hottest technology trends at CES this year won't be a specific device—it'll be 5G. Arm CEO, Simon Segars, reveals what's ahead as 5G starts to become real.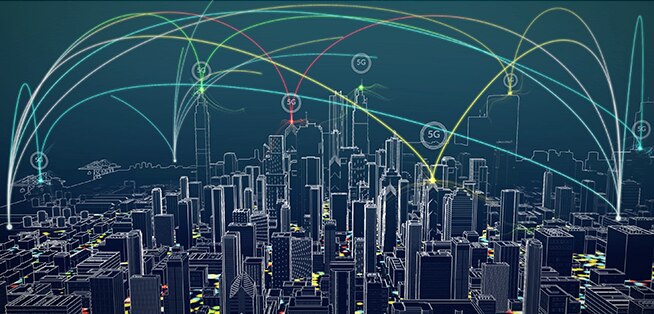 By Simon Segars, CEO, Arm
January 2019 is the start of one of the most important years in my three-decades long technology career, and it all begins at CES. The Consumer Electronics Show is the world's biggest tech show; a magnet for companies, tech gurus and users all drawn to sin city for a week of technology hedonism. But for a show famously focused on mind-blowing new consumer devices, I think one of the hottest technology trends this year won't be a specific device – it'll be 5G.
5G starts to become real in 2019 with superfast data speeds made possible from the first rollouts of more powerful and intelligent network services. It's the start of a new era for consumers. Dreams of what 5G can do will turn into everyday products early in the year as 5G-fueled smartphones appear and seem to perform like sleek supercars compared to the push-bike handsets of just a few years ago.
These pioneering 5G devices will run on the latest Arm-based chips, enabling them to power virtual, mixed and augmented reality applications in real-time. Your favorite ultra-high definition films will download in seconds. And once the world's application developers are let loose with network capabilities bringing super-fast bandwidth and super-low latencies, we'll see a new breed of interactive applications and services making many people wonder how they ever got along with "lowly" 4G.
Beyond consumer uses, 5G network upgrades will unlock opportunities for the internet of things (IoT), robotics and autonomous cars, catalyzing an AI-enabled world propelled by data. Supporting this shift has been a priority investment focus for Arm and I can't wait to see the results over the next five years and beyond.
5G: A new world of possible
Arm's vision for how 5G extends globally is built on fundamental, and vital, changes in the world's data processing, transport and storage networks. These changes will lead to compute applied where it is needed; departing from the dominance of centralized 'big iron' data centers and concentrated high-powered control plane networks. Instead we will see new intelligence distributed throughout the networks with edge-server technology able to process vast quantities of data and run sophisticated machine learning (ML) algorithms.
This intelligence will enable a network revolution; delivering significantly more local processing to where data is generated, instead of channeling almost all data to remote processing farms as is the case with today's client-network-cloud architecture. By reducing the distance data travels to be processed, we'll see latencies fall and power efficiencies rise, further unlocking the potential of huge data sets. A case of win, win and win!
The argument for this transformation is compelling and I think my article title speaks to that, '5G: The most powerful letter and number this year'. The point was to describe how simplicity belies complexity. 5G sounds like an iterative step but the trial phase has shown just how disruptive a change it really is.
At a technology level it means a new layer of multi-threaded, throughput-efficient processing to manage the incredible data loads that are coming.  Performant new edge servers will blur the lines between the control plane and data plane. And, when truly unified, this convergence will slash the cost of compute and storage to bring the benefits of 5G to everyone faster. Arm's approach, in conjunction with our partners, is smarter processing, not just bigger processing. This is a transformation that Arm and our ecosystem are laser-locked in on supporting as we showed when we unveiled our Arm Neoverse infrastructure-class processor family last October.
Recent news has proven our thinking resonates with that of the major cloud compute suppliers. Take the recent announcement by Amazon Web Services (AWS) as it unveiled its first Arm-based Graviton server chips. The chips are the brains of new super-efficient Amazon servers that will support EC2 instances and take on a host of scale-out workloads such as hyperscale web traffic. AWS said the cost savings would be as high as 45 percent. In a world where the volume of data can lead to escalating costs, this has had a seismic impact. Indeed Geekwire heralded 'a new era of cloud-native hardware'.
Data, data everywhere but who's making it secure?
We know the digital world we're building is going to face ever more potent cyberattacks, but knowledge only turns into power if you act on it. I believe that security is a primary design priority but it's not something that's easy to get right. As well as pushing ahead with new Arm security products and architectural enhancements, in 2018 we also added to our Platform Security Architecture (PSA) guidelines for IoT product developers. And we introduced Arm Kigen – a software operating system working in parallel with Arm security IP to give IoT devices secure identification.
Ultimately the goal for us revolves around protecting the increasingly valuable commodity that's driving the need for new superfast 5G networks enhanced with an army of edge servers. That commodity is data.
Beyond the hardware, and into the currency of IoT – Data
Today, I look at data as something that is fundamentally transforming the company I lead. It is changing the nature of computing, the types of chip our partners build and the software those chips run. As a result, Arm's technology portfolio is changing too, from the ground floor of foundational computing and up into software and services. Like many tech companies the impact of big data, AI and IoT is making us rethink and reinvent, and it's driving start-up like developments internally.
This new world relies on the efficient transport of data and that is why 5G is so foundational to so many next-generation technologies. It will enable the technology industry to make mainstream what has been in the laboratory for years. If you were thinking that 5G is "just another G", then think again – it's like the shift from dial-up to broadband all over again, and it will unlock an exciting future, one that begins at CES 2019.
Any re-use permitted for informational and non-commercial or personal use only.
Media Contacts
Phil Hughes
Vice President, External Communications, Arm
Phil.Hughes@arm.com
+1 512-694-7382
Media & Analyst News Alerts
Get the latest media & analyst news direct from Arm